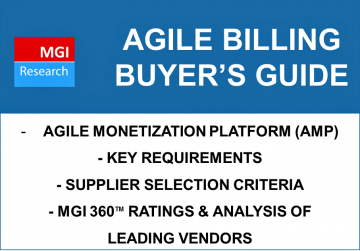 This Agile Billing Buyer's Guide & MGI 360 Market Ratings Report (MRR) provides ratings of leading suppliers of Agile Billing software and offers strategy and product selection recommendations for organizations evaluating providers in this market.
The report attached below summarizes MGI 360 scores of 16 leading suppliers using a quantitative rating (0 to 100) and a qualitative Outlook (Positive, Neutral, or Negative). Vendors whose ratings are presented in this MRR include:
Amdocs (Optima)
Aria Systems
BillingPlatform
ChargeOver
Chargify
Ericsson AB
Fusebill
Gotransverse
JustOn
OpenCell
Oracle (BRM)
Oracle-Netsuite
Recurly
RecVue
SAP SE
Zuora
Several other suppliers covered by MGI Research but not yet rated (e.g., Salesforce.com, Apttus, Chargebee, Logisense, et al.) are also discussed.
This Buyer's Guide is aimed at helping users make more informed and timely strategy and purchasing decisions. The report details growth drivers and barriers, key market segments, and major requirements for billing software solutions. It outlines a path to evolving legacy to agile billing solutions and highlights strategies and best practices for success.
WHY RATE TECHNOLOGY SUPPLIERS?
Business technology investment decisions are complex processes involving large amounts of money, time, and risk. As is the case with the market for monetization tools, buyers face an ever-expanding roster of suppliers. Many are well-funded and covered by press and industry analysts. With this abundance of information, the challenge for business and technology decision makers has been to extract signal from industry noise, to separate fact from marketing hype, and to get truly independent advice. Clarity is often a casualty of a well-funded technology market. Technology buyers are caught in a dilemma: spending too little time on evaluating a solution can put a business at risk, but spending too much time can put a budget and time-to-market at risk. The jeopardies faced by buyers in this context are significant. No executive wants to be in a situation where a long-term technological and financial commitment is made, only to realize too late that the company with which the executive made the commitment is a financial sham, has business practices that reflect a nickel-and-dime approach to customer service, or employs a strategy leading to a technological dead-end. In 2013, to help technology buyers intelligently navigate complex markets, MGI Research introduced the MGI 360 Ratings: a uniform 0 to 100 supplier rating system. Whether applied to new purchases or to an existing solution portfolio, MGI 360 is a consistent, clear supplier rating scale that helps business, finance, and IT executives save time, reduce risks and costs, get a head start on supplier due diligence, speed up sourcing, and improve vendor relationships.
KEY ISSUES FOR AGILE BILLING
What drives the business case for Agile Billing?
What are the emerging Agile Billing requirements?
What is the role of Agile Billing in Agile Monetization Platform (AMP)?
What is the relationship between Agile Billing and other AMP disciplines such as Configure-Price-Quote (CPQ), Automated Revenue Recognition (ARR), and Contract Lifecycle Management (CLM)?
What are the strategic priorities for Agile Billing in terms of investment, human capital, supplier partnerships, and business strategy?
What are the best practices for evaluating, adopting, and implementing Agile Billing?
What are the costs associated with evaluating, implementing, and operating an Agile Billing solution?
What are the different market segments of Agile Billing?
Which suppliers will emerge as leaders in Agile Billing?
Table of Contents
SUMMARY 1
WHY RATE TECHNOLOGY SUPPLIERS 1
KEY ISSUES FOR AGILE BILLING 2
ABOUT MGI 360 RATINGS 4
INTRODUCTION 9
AGILE BILLING AS A KEY ELEMENT OF MONETIZATION 10
KEY GROWTH DRIVERS AND BARRIERS 12
GROWTH IN SPENDING ON AGILE BILLING 15
MONETIZATION SOFTWARE CONTINUES TO BE A MAGNET FOR INVESTORS 16
AGILE BILLING – TRANSFORMATION OF PRICE/PERFORMANCE 17
KEY MARKET SEGMENTS 19
KEY FUNCTIONAL REQUIREMENTS FOR AGILE BILLING 23
AGILE BILLING SOLUTION SELECTION STRATEGIES AND SELECT BEST PRACTICES 26
SOLUTION SOURCING RECOMMENDATIONS–KEY TAKEAWAYS FOR POTENTIAL BUYERS 28
MGI 360 RATINGS SUMMARY 30
CURRENT MGI 360 RATINGS FOR AGILE BILLING 30
FOCUS ON PRODUCT 33
FOCUS ON THE MANAGEMENT TEAM 36
FOCUS ON CHANNEL 40
FOCUS ON STRATEGY 44
FOCUS ON FINANCE 48
HISTORY OF MGI 360TM RATINGS PEER SCORES FOR AGILE BILLING SUPPLIERS 52
MGI 360 RATINGS–DETAIL 54
RATINGS OF INDIVIDUAL SUPPLIERS: SAP SE 54
RATINGS OF INDIVIDUAL SUPPLIERS: ORACLE (BRM) 58
RATINGS OF INDIVIDUAL SUPPLIERS: AMDOCS (OPTIMA) 62
RATINGS OF INDIVIDUAL SUPPLIERS: Ericsson AB (ECB) 66
RATINGS OF INDIVIDUAL SUPPLIERS: Aria Systems, Inc. 70
RATINGS OF INDIVIDUAL SUPPLIERS: Zuora, Inc. 74
RATINGS OF INDIVIDUAL SUPPLIERS: Gotransverse, Inc. 78
RATINGS OF INDIVIDUAL SUPPLIERS: BillingPlatform, Inc. 82
RATINGS OF INDIVIDUAL SUPPLIERS: OpenCell Software 86
RATINGS OF INDIVIDUAL SUPPLIERS: RecVue, Inc. 90
RATINGS OF INDIVIDUAL SUPPLIERS: NetSuite (SuiteBilling) 94
RATINGS OF INDIVIDUAL SUPPLIERS: Fusebill 98
RATINGS OF INDIVIDUAL SUPPLIERS: Chargify 102
RATINGS OF INDIVIDUAL SUPPLIERS: Recurly 106
RATINGS OF INDIVIDUAL SUPPLIERS: JustOn GmbH 110
RATINGS OF INDIVIDUAL SUPPLIERS: ChargeOver 114
BILLING SOLUTION SUPPLIERS UNDER COVERAGE BUT NOT RATED 118
Apttus 118
BluLogix 118
Chargebee 119
CSG Systems International, Inc. 119
ChikPea 120
Cerillion 120
FinancialForce 121
Rev.io 121
IDI Billing Solutions 122
LogiSense 123
Matrixx Software 124
LogNet Systems 124
NetCracker Technology Corp. 124
Optiva Inc. (formerly Redknee Solutions, Inc.) 125
SaaSOptics 125
Salesforce.com 126
Stripe 127
Tecnotree Corporation 127
Vindicia (a division of Amdocs Ltd.) 128
Zone and Company 129
RELATIONSHIP BETWEEN BILLING AND CONFIGURE-PRICE-QUOTE (CPQ) 130
RELATIONSHIP BETWEEN BILLING AND FINANCIALS APPLICATION SUPPLIERS 131
Sage Intacct 131
Workday 131
Legacy Financials and ERP Vendors – Epicor, Infor, Microsoft Dynamics, QAD, Unit4, et al. 132
RELATIONSHIP BETWEEN BILLING AND REVENUE RECOGNITION SUPPLIERS 133
RELATIONSHIP BETWEEN BILLING AND DIGITAL COMMERCE, MERCHANT OF RECORD (MOR) SUPPLIERS 134
RELATIONSHIP BETWEEN BILLING AND MEDIATION SUPPLIERS 135
APPENDIX A—About MGI 360 Ratings 136