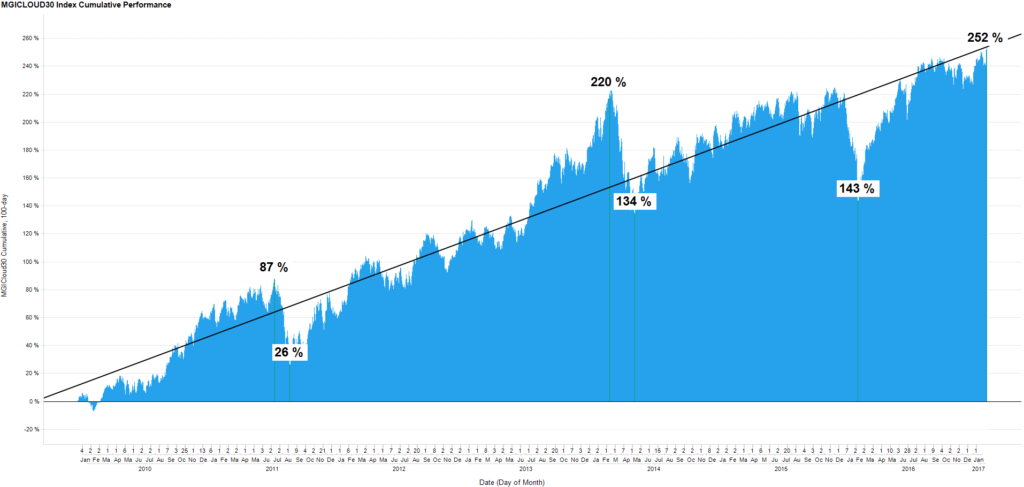 MGI Research has updated the composition of MGI Cloud 30tm Index by introducing new positions to replace both companies that have been acquired and companies that have not yet lived up to their original intent to be significant cloud computing players.
Background
DISCLAIMER: The information presented here is not an offering or a recommendation to buy or sell any securities in any market and does not represent investment advice in any form.
Since late 2009, MGI Research has been tracking the performance of an index called MGI Cloud 30. The aim was to create a proxy for performance of technology companies likely to benefit disproportionately from adoption of cloud computing. The index (Bloomberg: MGICLOUD) has demonstrated that cloud computing is a significant, distinct, and durable multi-year trend that has produced definitive winners and losers. For a period from Dec 21, 2009 to Feb 10, 2017, a model portfolio of MGI Cloud 30 Index equities has cumulatively returned over 252% versus about 108% for the S&P500 benchmark during the same period. MGI Cloud 30 Index has been up every year since inception as the chart of average cumulative returns illustrates below.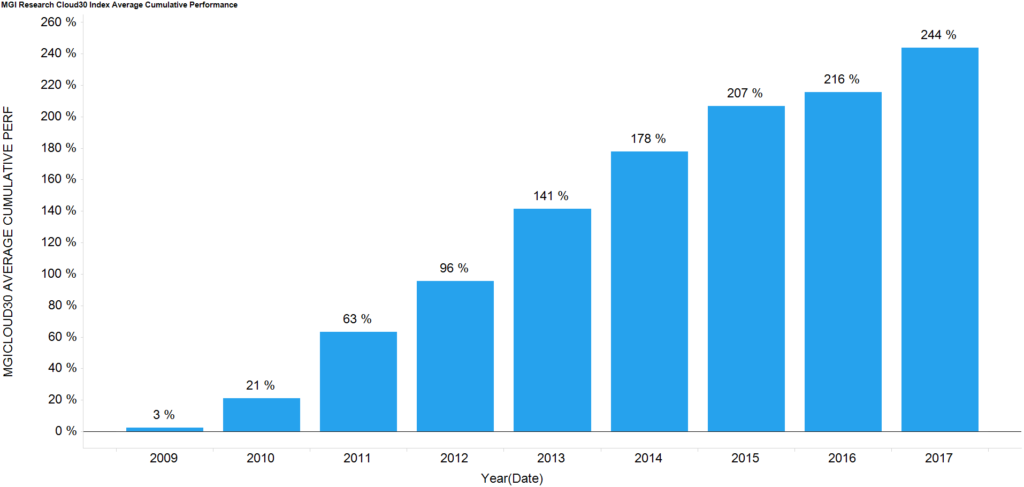 While the performance of  the index showed strength on an absolute, relative, and annual basis, it is also clear that adoption of cloud computing is still in its early stages, and familiarity with cloud computing amongst practitioners, business professionals, and investors is still sparse. This is reflected in relatively high volatility of cloud equities.
When MGI Cloud 30 Index was originally constructed, the aim was to select companies that are primary, secondary, and tertiary beneficiaries of cloud computing. The portfolio was logically divided into three large groups:
Pure Plays—NetSuite, Salesforce.com, et al.
Infrastructure Providers—Amazon, Digital Realty, Equinix, Rackspace, et al.
Tools Suppliers for the Cloud—Citrix, Riverbed, Vmware, et al.
Over the last several years, we have seen definitive winners and losers among pure plays and infrastructure providers, e.g., Amazon versus Rackspace. We have seen more losers than winners among the tool suppliers, an area that was originally viewed as "arms suppliers" to the cloud but one that has largely failed to transition out of its legacy on-premise business. The pure play area is dominated by software-as-a-service (SaaS) companies while the infrastructure arena is dominated by Amazon Web Services on the one hand and providers of data centers like Equinix and Digital Realty Trust on the other. Suppliers of tools have largely failed to grow their cloud businesses fast enough to reach escape velocity that would have transformed their businesses from largely on-premise to largely cloud-based. A number of incumbent tech industry giants that were not originally selected for the index and still remain on the outside also fall into the category of cloud losers.
The index also excludes many large cap tech giants that have a minimal direct revenue contribution from cloud computing. Some of these are growing (e.g., Microsoft), and we are keeping an eye on them. As index positions are revenue- and not market cap-weighted, companies need to demonstrate meaningful contribution of cloud computing revenue components in terms of percentage of overall revenue, critical mass of revenue, and revenue growth. We continue to monitor the industry metrics of all leading cloud computing participants.
New Components of MGI Cloud 30tm
As of end-of-day on February 1, 2017, we updated the composition of MGI Cloud 30 Index to reflect acquisitions of several components. We have also taken a step to trim from the index those firms that have not been able to achieve critical mass in cloud computing and/or are not meeting minimum requirements for liquidity.
The new issues added to replace acquisitions include:
| | | |
| --- | --- | --- |
| Company | Symbol | Notes |
| Nutanix, Inc. | NTNX | Replaced Aruba Networks acquired by HP |
| Atlassian Corp. | TEAM | Replaced Click Software acquired by Francisco Partners |
| ZenDesk, Inc. | ZEN | Replaced Concur Technologies acquired by SAP SE |
| Ring Central, Inc. | RNG | Replaced Constant Contact acquired by Endurance International |
| Paycom Software, Inc. | PAYC | Replaced NetSuite acquired by Oracle |
| New Relic, Inc. | NEWR | Replaced Rackspace acquired by Apollo Global |
| Arista Networks, Inc. | ANET | Replaced Riverbed acquired by Thoma Bravo |
| Shopify, Inc. | SHOP | Replaced DealerTrack acquired by Cox Automotive |
| HubSpot Inc. | HUBS | Replaced Marketo acquired by Vista Equity |
We have also replaced a few components that in our view no longer meet the original selection criteria and introduced the following new components:
| | | |
| --- | --- | --- |
| Company | Symbol | Notes |
| Veeva Systems, Inc. | VEEV | Replaced Citrix Systems |
| Cyrus One | CONE | Replaced InterNAP |
| Coupa Software, Inc. | COUP | Replaced Limelight Networks, Inc. |
| Twilio, Inc. | TWLO | Replaced VMware |
Two companies in MGI Cloud 30 Index—Level 3 Systems (LVLT) and CenturyLink (CTL)—are involved in an M&A transaction with CenturyLink acquiring Level 3 for a combination of cash and stock. Once the transaction is completed, we will be updating the index portfolio again.
The new components added on February 1, 2017 broadly separate into two major groups—Cloud Applications and Cloud Infrastructure—and aim to capture advances that are taking place in cloud business applications, agile development, e-commerce, automated marketing, next generation data centers, and vertically oriented cloud software offerings.