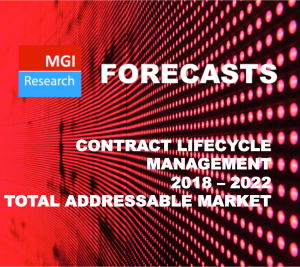 The market for Cloud-based Contract Lifecycle Management (CLM) software represents a rapidly expanding five-year (2018-2022) total addressable market (TAM) in excess of $7.6 billion.
The growth in CLM adoption is fueled by digital transformation and a refocusing of technology investment away from traditional ERP/Financials suites towards automating and digitally instrumenting key processes within organizations.
CLM represents a significant opportunity to increase productivity, improve accuracy, and inject operational speed across organizations of all sizes, stages of maturity, industries, and geographies. Leading organizations around the world are already investing in automated CLM tools, but the overall level of adoption is still relatively modest. We expect the pace of innovation and adoption in this area to accelerate. This will be accompanied by an evolution in CLM's systems capabilities, user perception, and integration between itself and other core enterprise systems such as CRM, CPQ, Billing, and Procurement Management and Supply Chain, among others. MGI Research believes CLM is an essential ingredient in any digital transformation initiative.
This MGI Forecast provides a quantitative estimate of the Total Addressable Market (TAM) for Contract Lifecycle Management (CLM) software from 2018 to 2022. In this report, we address the following information and issues: worldwide annual estimates of potential spending and growth rate, detailed geographical breakdowns, economic sectors, analysis of market size based on company size, the impact of Internet of Things (IoT), Digital Transformation, and company growth and technology spend profiles, among others. Estimates for potential spending on corresponding legacy, on-premise, and hosted software solutions are included, as are estimates for the combined Cloud and legacy market size and growth rate. This analysis is based on MGI Research's proprietary Global Analytics Model, a curated database of every publicly listed company in the world with revenues greater than $1 million.
The report analyzes the key market drivers and dynamics that are fueling the growth in CLM investments and details the geographies, sectors, and vertical industries that are most impacted.
Table of Contents
Executive Summary 1
Introduction 5
Business Landscape 7
Key Business and Technology Drivers for CLM Adoption 9
Impact of Regulatory Mandates on CLM Adoption 10
CLM as a Tool for Innovation 10
The 13 Deadly Sins of CLM 11
Transformations That Are Shaping CLM Markets 12
Who Are the Buyers and Beneficiaries of CLM 13
What Are the Benefits of CLM? 14
CLM as an Element of an Agile Monetization Platform (AMP) 15
CLM Tam Forecast 2018-2022 17
Forecast Scope, Assumptions and Methodology 17
CLM Total Addressable Market (Tam) 20
Cloud CLM Annual Forecast 23
Cloud CLM Average Spending 24
Cloud CLM Geographic Opportunities 25
Top 10 Countries for CLM Tam 26
Cloud CLM Vertical Opportunities: Sectors & Industry 27
Impact of Major Technology and Business Trends 30
How Does Growth Impact Adoption of CLM? 30
Impact of Technology Adoption Style 31
Impact of Digital Transformation 32
Impact 0f the Internet of Things (IoT) 34
Impact of a Shift Towards Subscription Business Models 35
CLM Market Outlook 36
MGI Research Coverage in Contract Lifecycle Management 37
Summary 38
Appendix: CLM TAM Forecast Assumptions and Stats 40
MGI RESEARCH COVERAGE IN CONTRACT LIFECYCLE MANAGEMENT (CLM)
MGI Research provides in-depth coverage and MGI 360 Ratings of leading suppliers of CLM solutions, product evaluation, and selection advice, as well as sourcing. The following is a representative (partial) list of CLM software providers under coverage:
Advanced Software Concepts (ASC)
Agiloft
Apttus
CallidusCloud
CLM Matrix
CobbleStone Systems
Concord
Conga
Contract Logix
ContractWorks
Corridor Company
Curtis Fitch
Determine, Inc.
Emptoris (IBM)
Exari
Gatekeeper
Gatewit
GEP
Gimmal
Great Minds Software
HotDocs
Icertis
Infor
Ironclad
Ivalua
Jaggaer
Mitratech
Model N
Onit, Inc.
Oracle Corp
Pramata
Sirion Labs
SpringCM
Symfact
Thomson Reuters Corp
Zycus