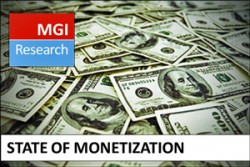 Throughout 2016, MGI Research conducted a comprehensive survey of buyer preferences and intentions in the Agile Monetization market. The study reached numerous decision makers and current and potential buyers of monetization technology solutions. The results reveal important shifts in trends among leading adopters of agile monetization solutions.
The focus of this research effort was on identifying key trends that are shaping the re-tools and re-investment taking place across the emerging digital value chain. The State of Monetization study collected unique data points related to how enterprises create effective strategies, plan, budget, implement, and deploy agile monetization tools and best practices. Over 160 responses were received which were filtered down to 122 responses that were the most complete and representative of the potential buyers of monetization tools. The results revealed that there is a meaningful shift in strategies and investment approaches away from monolithic, mostly on-premise concepts with genesis in the 1990s and towards agile, cloud-based monetization microservices that make up the key elements of Agile Monetization Platforms or AMP.
Study data was assembled from verified online responses to a series of questions focused on technology and business priorities, investment intent, customer satisfaction, supplier brand perceptions, usage, and buying preferences. The data represents a broad cross-section of business, finance, sales, and technology executives and practitioners from a wide range of company sizes, industries, and geographies.
The results of the study are summarized in the report attached below.
The major findings of the study are:
Key Drivers: The interest in monetization is partially but not exclusively driven by adoption of new business models and a variety of pricing modalities. Other significant drivers for monetization modernization include improvement in time-to-market, reduction in customer friction, improvement in customer satisfaction, reduced revenue leakage, and improved financial reporting and forecasting capability.
Challenges: Despite years of effort and billions of dollars in investments into ERP systems,

59% of companies cite significant customer friction due to billing disputes.
44% of companies see their legacy systems as a barrier to growth.
42% of companies experience revenue leakage.
39% indicate that monetization-related challenges impact financial reporting, forecasting, and audits.
32% cite time-to-market issues related to introducing new pricing plans.
30% of companies indicate that billing issues are impacting their financial results.

Pricing Model Shifts: The survey data clearly illustrates the move away from one-time charges and simple subscription models towards sophisticated, hybrid approaches that combine subscription, tiered pricing, usage, and volume purchasing options.

Share of fixed one-time charges (OTC) is expected to decline from 22% in 2016 to 11% by 2018.
Share of simple subscription plans is expected to decline from 23% in 2016 to 19% by 2018.
Usage-based is expected to gain share modestly from 19% in 2016 to 21% by 2018.
Complex combinations of subscription pricing with usage tiers are expected to gain shares from 18% in 2016 to 24% by 2018.

Time-to-Market: While 56% of survey respondents would like to be able to introduce new pricing plans in less than four weeks, currently, only 29% of companies can do so, and only 37% expect to be able to do so by 2018.
Spending Benchmark: About a third of companies spend under 1% of revenue on billing. About 30% of companies spend more, and 40% of companies do not know what their billing costs are.
Priorities, Intentions, Budgets, and Preferences: The survey collected data about relative priorities of various monetization disciplines, investment intent, satisfaction with specific functions, priorities of key features, and supplier usage as well as buying preferences related to solution breadth, depth, vertical industry focus, and deployment options.
Cloud Rules: Over 70% of companies have a preference for a true, multi-tenant cloud software solution, and only 8% prefer an on-premise option.