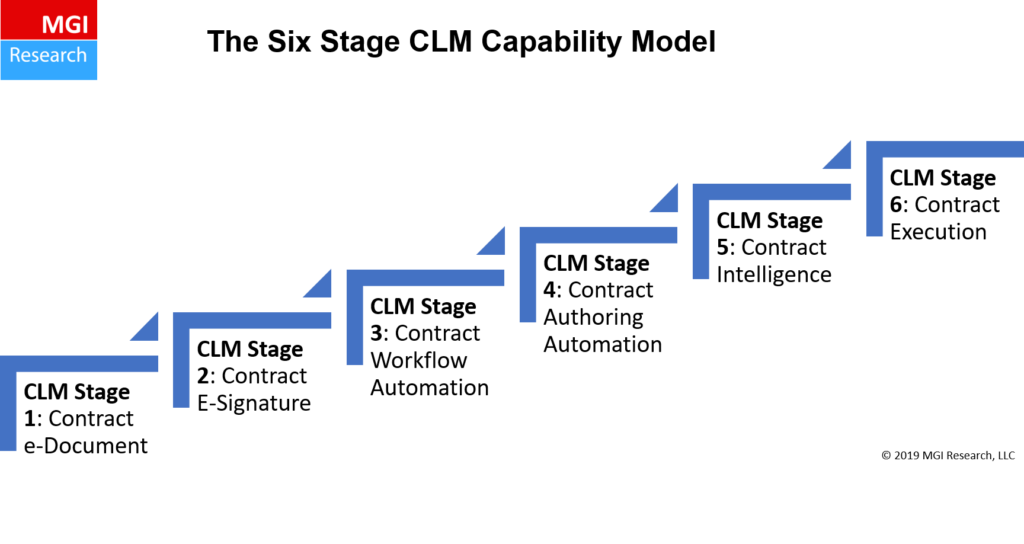 Contract Lifecycle Management (CLM) is maturing rapidly and shifting from a document management to a data orientation. This research note defines the Six Stage CLM Capability Model and explores the shift from a document-focused to a data-centric CLM.
Summary: Adoption of Contract Lifecycle Management (CLM) continues to rise, shifting from Type A early adopters to mainstream organizations. CLM usage is broadening beyond the legal and procurement groups to include sales operations, finance, customer service, and compliance, among others. Key advances in its functionality will propel CLM into becoming a recognized enterprise system of record. Organizations that take advantage of these new capabilities will achieve breakthroughs in their ability to integrate key processes across finance, sales, manufacturing, compliance, and risk management.
The evolution from a coarse-grained document management architecture to a fine-grained, information-centric approach requires a simple reference framework that can help users self-identify their stage of maturity and formulate a plan to move forward. MGI Research identifies six key stages of CLM capability and has devised the MGI Research Six Stage CLM Capability Model, detailed in this research report. The full report is accessible via a link below.
Key Issues
How will the capabilities of Contract Lifecycle Management evolve?
What factors will drive adoption of CLM?
How should organizations plan, organize, and budget for CLM adoption?
How should organizations plan to integrate CLM into the digital enterprise?